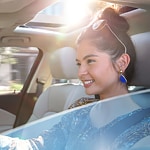 If your teen has reached driving age, they're probably asking you for a car of their own. It may actually be quite practical to add another vehicle to the family, especially if your kid is involved in extracurricular activities or has a job near Garland, TX. At Ride N Drive, parents often ask us for recommendations on which models are best for new drivers. Here are some tips for choosing your teen's first car.
Safety should be a prime consideration when it comes to cars for newly licensed drivers. Some online research with the National Highway Traffic Safety Administration or the Institute for Highway Safety will provide you with the latest safety information on a wide selection of vehicles. If your budget allows, look for vehicle models with safety features like a backup camera, blind spot monitoring, and lane assist.
Size is also important. A midsize model that provides plenty of protection yet is easy to handle is a wise choice. It's also best to avoid powerful high-performance vehicles.